Think Outside the Lunchbox
Summer is coming to an end … which means school is starting … which means lunches need to be packed … I can hear the *sigh* of every parent from here.
Before we get started I have something to admit … I am a "new to school mom" … I may be a Registered Dietitian but my little one only starts kindergarten this year which means I don't have a whole lot of experience packing lunches … but this also means it is at the forefront of my mind right now.  I'm not going to pretend to be an expert (obviously I'm not, my little one hasn't even started school yet!) but I am going to share a few tips.
1.       Aim for a variety of food groups.
Each food group provides different nutrients to help fuel your child's body and brain!  An easy way to ensure they are offered a variety of nutrients throughout the day is to make sure you choose a food from each of the following categories.
*Bonus tip – print this chart and have your kids choose what they'd like!*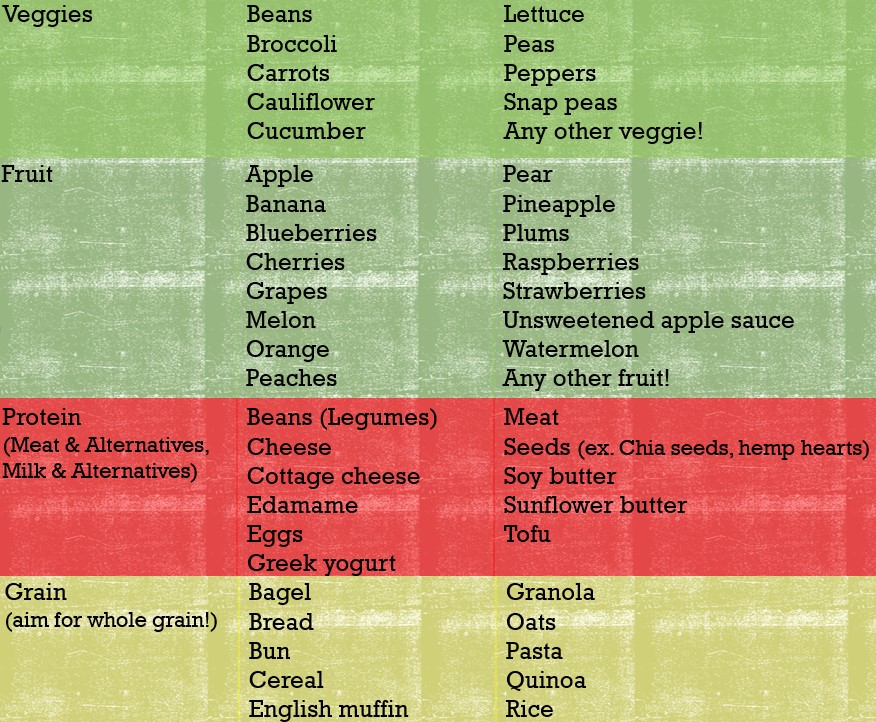 2.       Think outside the lunchbox.
It is easy to get stuck in a 'sandwich cycle' – day after day, sandwich after sandwich.  Consider your child's favourite food and think of how you can incorporate it and still include at least one food from each of the categories listed above.
My little one LOVES pancakes and muffins (who doesn't?!).  Get creative and work the food groups into them – quinoa egg veggie muffins, cottage cheese pancakes (I know you are thinking, "there is no way my kid will eat that" but give the simple 3 ingredient recipe a try and you may be surprised … if you still aren't convinced add a few chocolate chips), pizza muffins, chickpea blondies (yes – a Dietitian just suggested brownies for lunch).
*Bonus tip – premake and freeze any of the above recipes for quick & easy lunch packing!*
What kid does love pudding or a good dip?!  Try working the food groups in these with these recipes – chia seed pudding, cottage cheese or Greek yogurt-based dip (serve with veggies).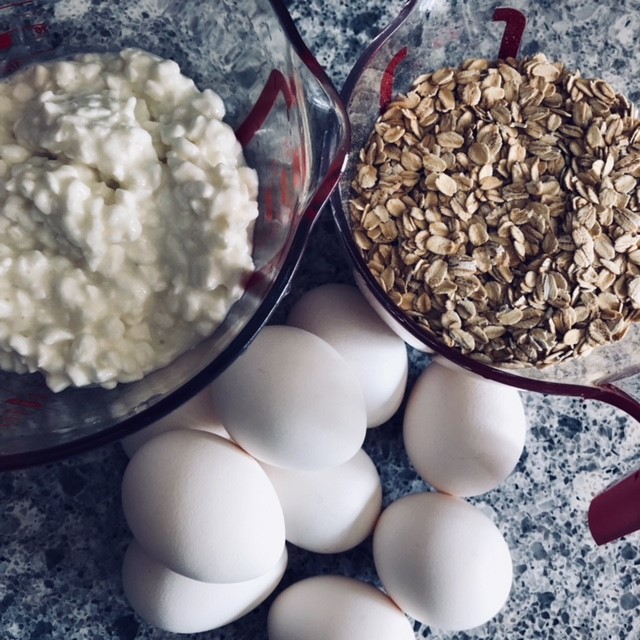 3.       Try a bento box / smorgasbord / lunch box buffet / charcuterie lunch pack / homemade lunchable
Bento box / smorgasbord / lunch box buffet / charcuterie lunch pack / homemade lunchable – whatever you want to call it, kids love it!  Use a store-bought compartmentalized container, mini tackle box, or make your own by adding silicone muffin cups to a container you already have.  Fill each compartment with a different choice – don't forget to include all of the food categories!