About Us
What is a Family Health Team?
A Family Health Team is an approach to primary health care that brings together Family Physicians, Nurse Practitioners, Registered Nurses, Dietitians, Registered Practical Nurses, Social Workers, Chiropodists, Pharmacists, Occupational Therapists, and other professionals to coordinate the highest possible quality of care for you – the patient.
Who can access the Sunset Country Family Health Team?
Access to the programs and services offered by the Sunset Country Family Health Team varies per program. Find more information on appointment bookings here, or contact us directly at (807) 468-6321 and we will be happy to provide information and eligibility for our programs and services.
Values & Mission
The SCFHT has identified new vision, mission and values statements, reflecting their dedication to quality care that is accountable to the patients that access their services.
Vision
"Inspiring a healthier community together."
Mission
"Collaborating as a team to empower a healthy community by providing comprehensive quality primary care."
Values
Quality. Team Care. Accountability. Patient Focused. Excellence. Collaboration.
Our Team
Registered Practical Nurses
Breanne Becker
Crystal Cadieux
Kendra Madussi
Kim Loranger (Keewatin Medical Clinic)
Megan Vieira
Rachel Wykes
Registered Nurses
Alanna Scribilo
Becky Shorrock
Carolyn Hamlyn
Colleen Snyder
Diane Debbo
Jen Carlson
Jillian Faulds
Nurse Practitioners
Angela Jung
Barbara Pernsky (Keewatin Medical Clinic)
Cass Boutwell (Docside Clinic)
Maggie Williams
Meg Scully
Holly Rose
Kate McEachern
Michael Reid
Occupational Therapist
Pharmacist
Registered Dietitians
Cindy Van Belleghem
Therese Niznowski
Foot Care Nurse
Executive Director
Finance Manager
Clinical Coordinator
QIDSS
Administrative Assistants
Jenna Mattson – Casual
Lindsay Whitaker – Communications & Executive
Suzanne Langlois – IT & Programs Services
Toni Maenpaa – Patient Services
Strategic Plan
Enhanced Governance and Leadership
Strategy One

To utilize an accountability framework that monitors performance indicators and clinical outcomes, and is governed by an engaged Board of Directors.

Initiatives

Program and service goals and objectives documented in an accountability framework that meets the needs of the population serviced.
Financial and human resources managed to meet the specific goals/objectives and mitigate risks as they arise.

Strategy Two

Identify and implement governance best practices to support their leadership role within the team.
Governing Board of Directors will participate in education opportunities to support their leadership role within the Family Health Team.

The governing Board of Directors will clearly define the community served and set targets for increasing roster / panel size.

Review Board of Directors structure and corresponding policies and procedures that support the leadership of the board.

Identify areas of risk and mitigate risk with the implementation of board best practices.

Develop and implement succession planning for leadership positions i.e. Executive Director, Board of Directors
Improved Access to Care
Strategy One

Improve access to care while adhering to the right patient, right time and right care principles.

Initiatives
Reduce wait times with the expansion of advanced access to care and coordination of services.

Maximize the utilization of Family Health Team providers, by ensuring each is working to full scope of practice.

Educate patients on Family Health Team services and promote programs offered.

Clearly establish roles and responsibilities of providers building relationships amongst the team.

Communicate roles and responsibilities with population served, reducing barriers to care and improving access to care.

Establish a mechanism to share job descriptions across the team supporting communication, access to care, improved referrals to programs/services and reducing barriers to care.
Improved Communication Management
Strategy One

To improve communication, focused on meeting the team's vision of inspiring and engaging the population served.

Initiatives

Internally

Define a communication framework to increase sharing of information between staff at all four sites.
Increase effectiveness of communication between providers by improving electronic medical record (EMR) utilization.
Standardize EMR data entry across the four sites, where identified by the team, improving data quality and communication between providers.
Utilize the EMR to the fullest potential as the preferred communication tool between providers and sites.

Externally
Utilize the SCFHT website as the foundation for a communication tool with community providers, partners, stakeholders and population served.

Explore additional IT opportunities for communication with the public i.e. Facebook, Twitter etc.

Define a communication framework to increase sharing of information with the public, stakeholders, funders, partners and other identified groups.

Develop and utilize a communication framework to support system navigation for seamless transition between providers and the health system partners.

Promote the Family Health Team across the health care system and community of Kenora/ surrounding area.
Engaging Staff
Strategy One

Improve team based care with the involvement and engagement of all providers with the purpose of improving staff satisfaction.

Initiatives
Engage staff and providers, with a commitment to reducing silos, within the work place.

Increase communication between members of the team with identified tactics as established by the team (i.e. newsletters, forums, brochures, websites, quarterly meetings, program planning sessions etc.)

Establish regular program meetings, with providers and staff, focusing on improving communication, enhancing cohesiveness of the team, building relationships and engaging staff.

Establish a framework that will celebrate team successes and achievements throughout the year.

Create a system for recognizing staff that have provided excellence in care.
Patient Experience
Strategy One

Enhance positive patient experiences through quality improvement and safe health care delivery with a focus on good health outcomes.

Initiatives

Establish a culture of quality and patient safety across the organization.
Utilize quality improvement methodologies across the organization and in support of the Quality Improvement Plan submitted annually to Health Quality Ontario.
Key indicators, qualitative and quantitative, will be established and monitored (Quality Improvement Plan).
Establish a mechanism to introduce the patient voice across the organization with the sharing of stories and patient outcomes.
Focus on empowering and inspiring the patient through self-management opportunities.

Strategy Two

Develop and implement a decision making framework that is based on best practices identified and approved by the leadership team.

Initiatives
Identify evidenced based clinical best practices and utilize resources for decision making processes.
Sustainability of the Organization
Strategy One

To ensure that the SCFHT is adequately resourced for current and potential service needs.

Initiatives

Continue to ensure that the SCFHT is financially sustainable, with ongoing engagement with current and potential funders, recognizing the changing needs of the population.
Ensure that the physical facility continues to meet the needs of the team and is upgraded or expanded as identified by the team and Board of Directors.
Continue to recruit and retain health care professionals as the growing needs of the organization are identified.
Ensure current financial policies and procedures continue to meet the needs of the organization i.e. procurement, capital, monitoring, financial risk management etc.

Enhance Community Relationships and Partnerships

Strategy One

To formally create partnerships with community health care and social service providers with the purpose of strengthening the continuum of care within the area.

Initiatives
Actively seek out community partners that service the Kenora and surrounding area and create a forum for sharing of information. i.e. network of providers

Participate in the Kenora Local Health Hub, Kenora District Integrated Network and Health Links as appropriate.

Engage the MOHLTC, NWLHIN and other funders in partnership and integration opportunities building on existing services.

Promote visibility and understanding of Family Health Team across the health care sector of Kenora and region.

Continue to actively partner with the surrounding First Nation's communities and organizations to offer safe primary care and expand services where appropriate.
Quality Improvement
Quality Improvement is an initiative for the Sunset Country Family Health Team to make your experience as a patient better. Annually, all Family Health Teams are mandated to produce and release a Quality Improvement Plan (QIP) which you can find online at Health Quality Ontario. These QIPS are our road map to quality improvement over the coming year and are key to supporting both our and the Ministry of Health and Long Term Care's goal through the Excellent Care for All Act. This Act aims to put Ontario's patients first by strengthening the health care sector's organizational focus and accountability to deliver high-quality patient care.
At the SCFHT, we measure data and implement improvement methods on areas such as:
Timely access to appointments;
Rates of cancer screening;
Patient satisfaction;
Medication safety.
To find out more information, or to become involved with our FHTs Quality Improvement Committee, please contact Melonie Young, Quality Improvement Decision Support Specialist, at myoung@scfht.ca or (807) 468-6321.
---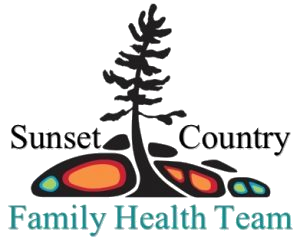 The Sunset Country Family Health Team logo pays respect to the Woodlands style of art.
Woodland Art, also known as Legend or Medicine Painting is a distinct style of native art that blends traditional legends and myths with contemporary mediums. It explores the relationships between people, animals, and plants, and is rich with spiritual imagery and symbolism.
When Norval Morrisseau first began painting in this style, his intention was to re-introduce the Anishnaabe world view into the contemporary consciousness. The Ojibwa culture had been all but obliterated by the imposition of external governance.
The Sunset Country Family Health Team's intension in using of this style of logo is to show respect for our commitment to all people in our community in providing and inspiring a healthier community together.